Home Page | Map and Climate | Sunshine Studies | Sequim Weather | Sequim Webcam | Activities | About
Olympic Peninsula Backcountry Skiing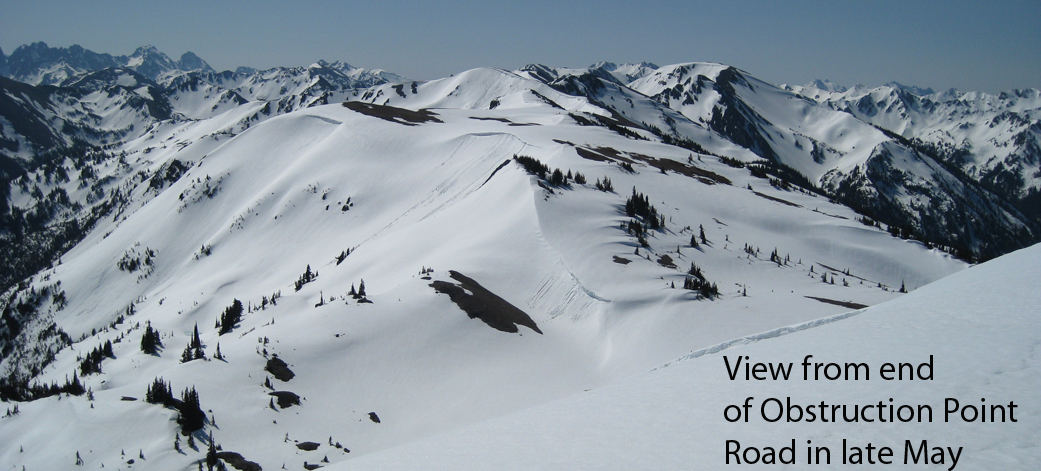 Backcountry skiing options in the Olympic Mountains are endless. Olympic National Park itself covers 1,442 square miles, much of which is above tree line and alpine. There are over 150 glaciers in the park, twenty peaks over 7,000 feet, fifty over 6,500, and ninety three over 6,000 feet. Skiable snow line is typically in the 4,000 foot range in winter, moving up to 5,000 feet in the spring and early summer season touring months.
There are multiple zones on the north and east side of the range worthy of good long day tours. In winter the Hurricane Ridge, Mt. Angeles, and Obstruction Point areas are the go-to zones. In the longer days of spring, the Baldy/Graywolf area, the Elk Mountain area, and Royal basin/Deception come into play. The later areas are plenty large enough for multi-day trips, which make the long approach a little more reasonable.
Countless more remote destinations like the Olympus range or the Bailey range offer additional vast skiable acreage.
In the spring of 2019, Jason Hummel lead a group of four on the definitive modern traverse of some of the most remote regions of the Olympics. For a taste of these areas, see his extensive report. On eight day trip, which started on May 29th, and likely covered over 100 miles of travel, Jason and his party encountered a total of zero people outside of the first and last mile of the trip.
So, one thing you can be sure of in the Olympics is relative solitude. There is a reason for this. Car-to-car "low hanging fruit" is limited to the Hurricane ridge area, which is serviced by a road only open three days a week in winter, subject to additional closures due to winter weather.
Vehicle access to trailheads in the other areas is hit-and-miss in winter due to unplowed forest roads. By the May/June touring season you can get to the trailheads, but are often looking at long approaches to snow.
Still, for the motivated and the strong, the Olympics offer endless backcountry skiing options.
Hurricane Ridge Backcountry Skiing
Obstruction Point Backcountry Skiing - coming soon
Elk Mountain Backcountry Skiing - coming soon
Baldy Graywolf Backcountry skiing - coming soon
Royal Basin/Deception Backcountry Skiing - coming soon